Meet the Team
Pastor Joshua Demi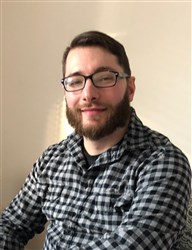 Joshua Demi was born and raised in Northern Cambria Pennsylvania, where he was homeschooled by his mother through the BCEI diploma program. After high school Joshua received a BA in Humanities at UPJ, before going on to his M.Div. at PTS. Before becoming a pastor, Joshua worked a variety of odd jobs, including construction, tech work in local theatre productions, and an internship at a film marketing company in Florida. He began pastoral ministry as the associate pastor of the United for God Cooperative in Johnstown, consisting of the Albright, Bowserdale, Cramer, Garfield St., and Mt. Olive United Methodist Churches. He then served as the senior pastor of Millerstown UMC and then the Millerstown/Walter Chapel charge in the Tarentum area. He has a passion for teaching, discipleship, and both engaging in and cultivating meaningful dialogues across cultural and ideological differences. In 2019, Joshua married the love of his life, Nosipho. He is a geek at heart, with a passion for learning, and great love of comic books, fairytales, and all things weird and wonderful.
Jodi Deurbrouck
Jodi is our Music Director.
Louisa Obeldobel
Louisa is in charge of Childcare.
Next Steps…
God is waiting for you with open arms. Come pray with us!